About the Artist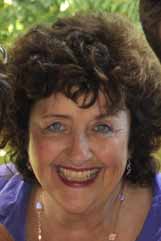 When I'm painting, my imagination constantly renews itself with images, and these associations often lead to a series of surprises. I try to translate the feeling and energy of a moment, a place, or even a memory to create an integrated painting. Though I've been painting for many years, I discovered oil and cold wax in an art workshop several years ago, and I loved the flexibility, freedom, and textural possibilities. I became passionate about working in this medium and the new expressions I might discover during the process.

I am a painter, educator, and poet, actively involved in the NJ art and cultural community, and I'm an Associate Professor in the English Department at Brookdale Community College in Lincroft, NJ where I've taught Creative Writing, Creative Nonfiction, and other writing classes for more than 28 years. I have been the recipient of fellowships at Princeton University, Rutgers University, and Vermont Studio Center.

My paintings have been exhibited in International juried shows and civic spaces throughout New Jersey and also in Pennsylvania and New York, including Aljira, City Without Walls, Monmouth Museum, Atlantic City Museum, Pleiades Gallery, Gloucester County College, Brookdale Community College, Art Alliance of Red Bank, Raritan Bay Medical Center. My poetry and essays have appeared in publications such as Blueline, California Quarterly, Poetic Reflections of Monmouth County, and Charleston magazine.

My earlier work includes abstract acrylic paintings, collages, and working on silk, linen, and cotton with hand brushed dyes and hot wax to create patterned art cloth and wearables.
Selected Art Exhibitions
2017 Atlantic Highlands Arts Council, Earth Candy invitational, 4 person Exhibit, AH, NJ
2017 Monmouth County 2 person Exhibit, April—June, Artspace 105, Red Bank, NJ
*2017 Monmouth Museum, 38th Annual Juried Exhibition, Lincroft, NJ.
2017 State of the Art 2017, Studio Montclair, Academy Square Galleries, Montclair, NJ.
2017 Studio Montclair, Healing Through Art, Juried, Montclair, NJ.
*2017 Petit Deux, Juried Exhibition, Emerge Gallery , Saugerties, NY
2017-2000 Art Alliance Gallery, monthly juried shows, Red Bank, (September--June)
*2017 JAS 13, Annual Juried Show, Juror, Richard Buntzen, NJ
2017-1998 A Sense of Place, Mixed Media Paintings), Writing Center Gallery, Brookdale C.C., Lincroft, NJ.
2017-2013 Café Duet, Abstract Expressions , East Stroudsburg, PA

*2016 Art Alliance Gallery, 30th Annual Juried Exhibit, Juror: Anne Wheeler, Guggenheim Museum, NYC.
*2016 Emerge Gallery, Saugerties, NY.Petit, Small Works Juried Exhibit.
*2016 Visual Arts Center, NJ, ML Hillyer, Juried, Juror: Lauren Hinkson, Guggenheim Museum, NYC.
*2016 Viewpoints 2016, Studio Montclair, Aljira, NJ. Juror: Mary Birmingham, Vis.Arts Cent., NJ
2016 Gallery on Grant, "Spring" Invitational, April-- June.
2016 Gallery 211, "Reciprocity", 2 Person Exhibit, Red Bank, NJ. (June--August)Curator: Cheryl Minden.
2016 Art Alliance Gallery, "Ways of Seeing", 4 person Exhibit, (July, Aug.) Red Bank, NJ
*2016 JAS 12, Annual Juried Show, NJ. Juror: Nancy Haulenbeek
*2016 Monmouth Museum, 37th Annual Juried Show, NJ.

*2015 City Without Walls, Metro 31, Juror: J. Wahi, Albert Wisner Public Library, Warwick, NY, (October)
2015 A Little Wax Invitational for 10 NJ Artists, Arts Guild NJ, Curator: Doug Ferrari, L. Capiello
*2015 City Without Walls, Metro 31 Show,. Caldwell College, NJ. Juror: Shlomit Dror, Newark Museum
2015 Creative Arts Gallery, "We Re-Emerge, Brookdale Com. College.
*2015 City Without Walls, Metro 31 Show, Juror: E.Brownstien, B.Beamsfeder Gallery, Highland Park, NJ (July—September)
*2015 JAS 11, Annual Juried Show, NJ (Merit Award)
*2015 Monmouth Museum, 36th Annual Juried Show, NJ.
2015 Pleiades Gallery, Small Works Show, Chelsea, W. 25th St., New York City
2015 Arts Guild NJ, Selected Artist of the Month, (May)
*2015 Baker's Dozen Competition Winner, Arts Guild NJ, (one of 13 NJ Artists featured)

*2014 Studio Montclair ,Viewpoints 2014, Aljira, Newark, NJ. Juror: Sue Scott, Orlando Mus. of Art.
*2014 Monmouth Museum 35th Annual, NJ. Juror: Stacy Smith, Zimmerli Art Museum.
*2014 CWOW, Metro 31 Show, Newark, NJ Juror: Shlomit Dror, Newark Museum
*2014 Art Alliance, Annual Juried State Show, Juror: Mary Birmingham, Visual Arts Center of NJ.
*2014 Jersey Shore, Juried JAS10, NJ. Juror: Margaret O'Reilly, NJ State Museum.
*2013 Art Alliance, Annual State Show, NJ. Juror: Mark Alan Stamaty, New Yorker Magazine.

Copyright (c) Colleen Lineberry. All rights reserved. Design by 2SUNS LLC.